e-VITA collaborates with a digital artist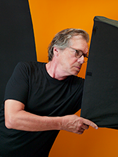 Yves Gellie has been exploring robotics and artificial intelligence as a photographer and filmmaker for several years. His last movie, "The year of the Robot" (2019), has received 17 international awards and is now regularly screened in contemporary art museums. By studying further the prospects of an intimate dialogue between human and machine in the E-Vita project, Yves Gellie depicts a close future where robots will be able to break the "older adults" isolation by accompanying and supporting them on their daily life.
The videos take the viewer through personal stories made of desires, fears and emerging relationships where the robotic and human protagonists ask each other about their future life together.
The footage includes different shots made in in Germany, Japan and France, allowing us to perceive the different cultural approaches between Asia and Europe.
Workshop at the Café Média – Broca hospital ©Yves Gellie