Smart Living Technologies and Sensors
The shape and modality of the e-VITA virtual coach itself will be customizable depending on user preferences and individual needs, in a practice-based selection process. The devices to be considered and explored herewith are depicted here: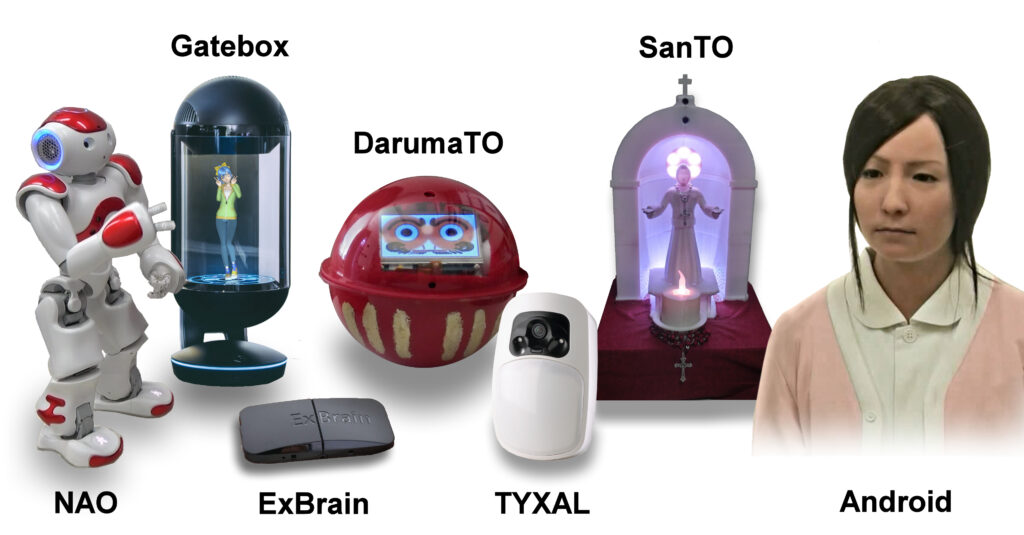 ExBrain measure neural and emotional activities in real life situations. The technology will be used by e-VITA, as well as emotion measurement technologies, to associate the cognitive and emotional activities with older adults's attitude, interacting with Android.
Tyxal is a sensing system that can detect any moving human presence with video function that can be used at distance. Tyxal is one of the sensing technologies of the e-VITA project that can be used to measure the end user's emotional and physical behaviour.
SanTO is a robot that can be a prayer companion, especially designed for Christian Catholic people, and contains a vast amount of teachings, including the whole Bible. Communication takes place through voice, vision, touch and lights. No buttons, screens or keyboards are used, thus realizing an user-friendly interface.
The Android robot is a social robot which resembles humans and can communicate with humans. The model e-VITA will use for a Living-Lab study, can blink and express facial expressions such as smiling, surprised, and angry. As it can neither stand up nor walk, it will be employed in a sitting position, where it can communicate through verbal and non-verbal behaviour.